Changes at Trinity Mirror as Daily Record editor goes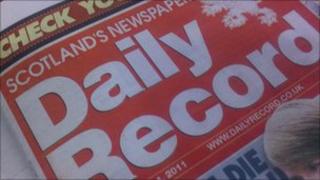 The editor of the Daily Record newspaper is to step down from his post.
Bruce Waddell, who has been in charge of the Glasgow-based paper for eight years, said it was "time for a change".
The paper's owner Trinity Mirror has also announced details of a major restructuring in Scotland.
It is creating a new division which will bring the Record and its sister paper the Sunday Mail together with the local papers it also owns.
The newly-formed company will be called Media Scotland and will control 20 local titles including the Ayrshire Post, Stirling Observer and Business Insider magazine.
It will also have an events division and operate 36 local and commercial websites.
Allan Rennie, a previous Sunday Mail editor, has been appointed as editor-in-chief of Media Scotland, with responsibility for all titles and editorial websites.
Bill Steven will be the business development director for Media Scotland.
Mark Hollinshead, managing director, Trinity Mirror Nationals, who will extend his responsibilities to include managing director of Media Scotland, said: "The creation of Media Scotland denotes the start of a dynamic new era in Scottish media.
"With our unique blend of national and local content, the combined reach of our portfolio of print and digital brands will deliver unrivalled coverage across the Scottish market."
The outgoing Daily Record editor Bruce Waddell said: "I've had eight great years at the helm of the Daily Record and Sunday Mail but it's time for change.
"I now look forward to a fresh challenge and exploring new opportunities."
About 70 staff at the Record were made redundant over the summer - slightly fewer than the 90 originally planned.
No backlash
Critics have claimed Trinity Mirror was attempting to turn the Record into a Scottish edition of its London-based sister paper the Daily Mirror in all but name - a charge fiercely denied by the company.
However, since the summer there has been a rise in the number of Mirror stories appearing in the Record while some pages of the two titles are almost identical.
Despite these changes - and the concerns expressed by the National Union of Journalists and some politicians - there have been no clear signs of a backlash by readers.
Sales of the Record have continued to slowly decline - continuing a trend which has lasted for many years which affects most of the newspaper industry.
In October, the Record sold around 293,000 copies a day compared to 320,000 in October last year and 305,000 when the job cuts were announced in June.