Superglass to look to the future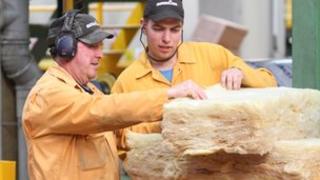 Stirling insulation firm Superglass has said after a year of "unprecedented operational and trading challenges" it is looking to the future.
The company increased its pre-tax losses to more than £5m but also grew sales to £32.3m.
Earlier this month Superglass confirmed it had raised £8m from shareholders and agreed a restructuring with its bankers to reduce its debt.
The firm also secured £2m in Regional Selective Assistance (RSA).
The money raised from investors and the RSA grant helped secure nearly 190 jobs with the company.
Superglass said it had achieved higher sales despite the shortfall in the government's Carbon Emissions Reduction Target Scheme (CERT) which gives grants to households insulating their homes. The take-up of the scheme has been less than the company expected.
It also suffered at the beginning of its financial year when a furnace failed, reducing its production capacity.
Superglass said it would start on a "much needed" capital expenditure programme in March next year which would upgrade the firms "processes and equipment to deliver operating efficiency gains and increased capacity".
The new systems are expected to save the company £3.6m annually.
Superglass began manufacturing at its Stirling site in 1987 and is a major supplier of glass wool insulation products for the construction industry.
It has been listed on the London Stock Exchange since 2007.