ATM advertising firm i-design posts maiden profit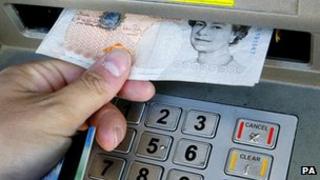 Dundee-based ATM advertising firm i-design has announced its first profit earlier than previously forecast.
The company made a profit of just over £100,000 in the last year, compared with a loss of nearly £1m in the previous 12 months.
Total revenue for the year was £3.52m - a 62% increase, helped along by two new major contracts.
i-design's software is now on 21,500 cash machines in the UK, the US, the Netherlands and South America.
The company recently signed a new deal with a major bank in Canada which it said took it into "new territory".
James Faulds, chairman of i-design, said: "These are excellent results and i-design's breakthrough into profitability is ahead of original market expectations of a loss for the year.
"Income from third party advertising is up 66% over the year and we also signed two major contracts, with Barclays and YourCash Limited, who bought licences to use our unique marketing software solution for their ATM estates.
"These wins confirm the dominance of our solution in the UK ATM market, where it is now deployed across six major ATM networks."
The company also launched its new software "joono" during the period, which it said was an "important development in the continued technological advance of our offering to ATM network owners".