Scottish salmon firm profits sink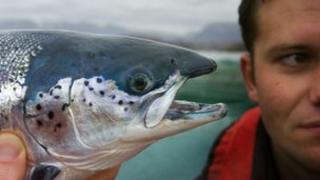 Profits at the Scottish Salmon Company have fallen sharply on the back of an increase in global supply which triggered a drop in prices.
The group, which farms solely in Scotland, made £0.7m in the third quarter of this year compared with £4.8m in 2010.
Sales for the period were slightly down but the company said it was still on course to reach targets.
The firm said funding was in place to grow the business.
It said the extension of external financing of £40m would "fund our strategic growth plan".
Scottish Salmon Company chief executive Bill Hazeldean said: "The key focus for the company is to grow and develop production volumes to ensure consistent supply, year on year, through all stages of the farming cycle.
"By doing this the company can meet the requirements of its customer base and ensure long-term sustainability.
"Going forward, demand for Scottish salmon is anticipated to remain strong, with a well-established strong domestic market and developing export market."
The Scottish Salmon Company employs more than 350 people in 40 sites in the Hebrides and west coast of Scotland, including two processing plants.
It produces more than 20,000 tonnes a year, which is more than 20% of total Scottish production.
After reaching record levels earlier this year, the price of salmon has been falling.
Production volumes are up in many countries and Chilean exports are staging a comeback after a virus decimated the industry from 2008.