SSE launches new '£90m' sustainable energy fund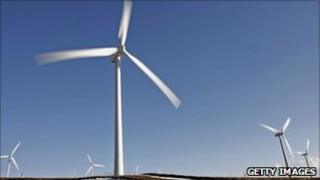 Power firm SSE is launching a new Scottish sustainable energy fund which it says could be worth more than £90m over 25 years.
The fund will support organisations promoting skills development, community energy schemes and improving the built and natural environment.
SSE said it could reach £90m if the firm is "able to realise its ambitions" for new onshore wind farms in Scotland.
It added it was on top of £150m it had already committed to community schemes.
SSE currently has about 1,000MW of onshore wind farms in operation in Scotland, with a further 1,400MW to 1,500MW earmarked for schemes which are either at the planning or pre-planning stage.
The company's latest move marks a shift in SSE's policy for awarding community funds.
Until now, awards - based on the installed capacity of onshore wind farms under construction or in operation - have been worth up to £2,500 a year for each megawatt of generation capacity.
Fresh commitment
The new commitment will increase the value of SSE's investment to the equivalent of £5,000 per megawatt for all new onshore wind farms constructed in Scotland from 1 January 2012.
This will comprise £2,500 for local community initiatives and £2,500 per megawatt for the new Scotland Sustainable Energy fund.
SSE's 76MW Strathy North Wind Farm in Sutherland, which was recently given the go-ahead by Scottish ministers, will be the first farm to receive the additional cash, providing a total lifetime fund value of £9.5m.
SSE said it intended to ringfence half of the money for the community hosting the farm, with the remainder used to support community projects across the Highland region.
'Significant difference'
Chief Executive Ian Marchant said: "We want to commit additional funds worth £90m to provide long-term support for strategic projects in the regions in which we are investing and in the areas of most need, and which we believe have the potential to make a significant and sustainable difference to the people of Scotland."
He added: "We're also committed to continuing to set aside sizeable sums for communities local to our wind farms, for existing and new sites. It is for these communities to decide what's important to them and to support projects which are best for their area.
"It might be job creation, keeping the local shop open or improving community transport."
Mr Marchant said if all of SSE's planned wind farms were given the go-ahead, the company expected to invest a total of more than £240m in local and regional community projects.
RSPB Scotland welcomed the new fund.
Head of planning and development Aedan Smith said: "It shows how the renewables industry is leading other development sectors in putting something back into communities and will help spread some of these benefits beyond the immediate wind farm sites.
"We look forward to working with SSE, Scottish government and other developers to help ensure wind energy developments contribute to the protection and enhancement of the natural environment across Scotland."