No oil find for Cairn in Arctic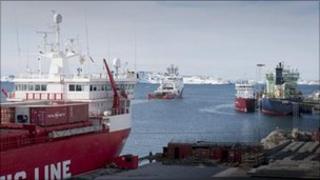 Edinburgh explorer Cairn Energy has failed to make a commercial discovery of oil or gas in its Greenland campaign.
The Scottish group said that two wells which it hoped would yield oil were to be plugged and abandoned.
Cairn said it was now reviewing its two-year campaign and is thought to be in talks with potential partners to share the risk of future drilling.
Shares in the FTSE 100 company closed down 1% on the news.
The cost of exploration in 2011 has cost the company about £400m.
Cairn Energy chief executive Simon Thomson said: "The first phase of Cairn's exploration programme in Greenland has encountered oil and gas shows across multiple basins and now reservoir-quality sands in the Atammik block.
"Whilst we have yet to make a commercial discovery, we remain encouraged that all of the ingredients for success are in evidence.
"Evaluation of data across Cairn's multiple blocks is ongoing against a backdrop of active farm-out discussions for selected areas."
Cairn's focus has moved to Greenland since it announced it would reduce its stake in its Indian unit.
Experts have predicted the Arctic will be the next major oil producing region, with reserves of about 20 billion barrels of oil.
However, its activities in Greenland have been disrupted by environmental protesters.
Cairn won a court order banning Greenpeace protesters from approaching its drilling vessels.
Of the company's latest news, Greenpeace senior campaigner Vicky Wyatt said: "However the company tries to spin this, Cairn's Greenland misadventures have been an unmitigated disaster from day one, the company squandering a fortune drilling one dry hole after another.
"These results show that the incredible technical, economic and environmental risks of operating in the Arctic simply aren't worth it."