Standard Life set to cut 69 more jobs in Edinburgh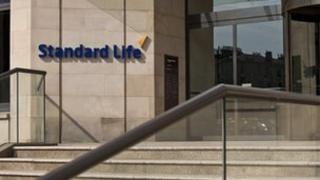 Financial services firm Standard Life has announced plans to shed a total of 69 staff from its Edinburgh information technology team.
The move is part of the group's ongoing efforts to reduce costs across the organisation by £100m by 2012.
More than 100 jobs will be lost but 37 new posts are to be created.
A further 17 people will potentially transfer to BT as negotiations continue over outsourcing of its network and telephony services.
A Standard Life spokesman said: "We have reviewed our group IT and operations division and have shared the outcomes of this review with our people today.
"The proposed changes will ensure greater synergies, greater capacity to serve our customers and provide clarity of roles for our people."
The group will now enter a period of consultation with staff, which will last a minimum of 30 days.
Earlier this month, the company announced plans to cut 95 jobs from its customer services division.
The firm said the posts would be lost through compulsory redundancies at its bases in Edinburgh and Glasgow.