New Canada air route for Glasgow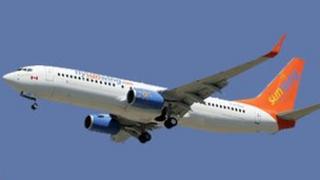 One of Canada's largest tour operators is to launch its first direct route to Scotland next summer.
Sunwing will operate a twice-weekly summer seasonal service between Toronto and Glasgow from June until September.
The new service was announced by Culture Secretary Fiona Hyslop during a mission to strengthen business and economic links in North America.
Ms Hyslop said Canada was one of Scotland's most valuable tourism markets.
She continued: "Last year we welcomed over 98,000 Canadians to Scotland, generating £65m for our economy.
"We must build on that to ensure Scotland remains a top destination for international travellers.
"Strong global connections are crucial to our economic prosperity and this new route is a tremendous boost for Glasgow and Scotland as a whole."
'Historic ties'
Andrew Dawson, from Sunwing Travel Group, said the company had added the low-cost Glasgow route in response to requests from its travel partners.
He added: "In addition to the strong historic ties between Ontario and Scotland, there is a growing market for a vacation that combines history and old world charm with the modern sophistication of a city stay - and Scotland and Glasgow meet those criteria perfectly."
News of the Sunwing flights was welcomed by Glasgow hoteliers.
Mark Gallagher, co-chairman of the Greater Glasgow Hotels Association, said: "This new route is great news for Glasgow.
"It has become a cosmopolitan city and a fantastic destination in its own right and we look forward to welcoming more Canadian visitors on board this new Sunwing service."
Ms Hyslop is undertaking a series of business, tourism, political and cultural engagements during a five-day visit to Toronto, Ottawa and Washington DC. Tourism body VisitScotland is accompanying the culture secretary on the trip.