Glasgow near bottom of recycling 'league table'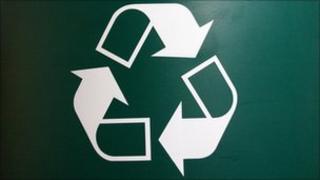 Scotland's largest council is among the poorest performers when it comes to recycling household waste, according to the latest statistics.
Glasgow produced 66,117 tonnes of waste in the second quarter of this year, but only recycled 26.8% of it, with the rest being sent to landfill.
Figures from the Scottish Environment Protection Agency (Sepa) show a national recycling rate of 43.6%.
In Edinburgh more than 35% of household waste was recycled or composted.
The latest set of Sepa figures coincide with a new and improved method of collecting and presenting Scotland's household recycling performance, which now excludes non-domestic properties.
Across the country from April to June 719,204 tonnes of household waste was created, of which 313,258 tonnes were recycled or composted.
Of Scotland's 32 local authorities, 12 managed to recycle 50% or more of their total household waste.
Zero waste agenda
North Ayrshire and East Renfrewshire and Falkirk, were the best performing, recycling almost 59%, while Glasgow came third from bottom, followed by Dumfries and Galloway and the Shetland Islands which recycled 20.7% and 17.6% respectively.
Fife Council produced the second largest amount of household waste, behind Glasgow, with 59,519 tonnes collected from April to June, but it recycled almost 57% of that.
Environment Minister Richard Lochhead said: "Today's recycling statistics are a credit to Scottish households and local authorities and they should be proud of their efforts.
"It's an excellent achievement to reach nearly 44% nation-wide and proof that the zero waste agenda is gaining real momentum.
"I welcome the new system for calculating our recycling performance as it shows exactly what Scotland's households are accomplishing every day."
Councillor Alison Hay, Cosla spokeswoman for regeneration and sustainable development, said: "Cosla welcomes the publication, as the new figures provide a more complete story of what happens to household waste and valuable resources.
"Councils are leading the zero waste agenda and continually improving services to make it simple for householders to recycle more materials."
A spokesman for Glasgow City Council said: "Since these figures were compiled, we have introduced additional recycling for more than 100,000 households and also expanded the type of materials that can be recycled.
"This is already boosting our recycling rate and we would expect to report improved figures for the same period next year."