Hazledene buys Olympic ski resort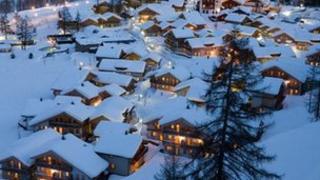 A Scottish developer has bought a former Olympic ski centre and spa in the Italian Alps.
Edinburgh's Hazledene Group has acquired the Pragelato Village Resort, built for the 2006 Winter Olympics, in an deal worth more than £25m.
The resort consists of 205 individual chalets and extensive luxury facilities, and was built at a cost of more than £85m.
Hazledene plans to upgrade the resort and make it a year-round destination.
The resort sits high in the mountains 50 miles to the west of Turin and links directly with the Via Lattea skiing area.
As well as the chalets, it comprises a hotel with a cinema, a nearby 10-hole golf course and a spa complex which is the largest in northern Italy.
It was built in 2006 and construction was funded by Anglo Irish Bank. The Irish investors lost their equity when the original holding company was placed in receivership in 2008.
The deal took two years to complete.
Mark Shaw, chief executive of Hazledene, said: "Although it may appear counter-intuitive to invest in Italian real estate at the moment, we are confident there is an exciting long-term future for the resort.
"The sales process has been very complicated, and during that time we have been able to build excellent local relationships, based on a common aim, which is to see Pragelato finally fulfil its fantastic potential in terms of skiing, services and luxury accommodation."
Mr Shaw helped keep the resort open and running during the negotiations.
The acquisition has been completed without third-party finance, following some recent sales including the iQ office development in Aberdeen city centre which Hazledene sold for £50m.