Uddingston firm Tunnock's aims to improve sales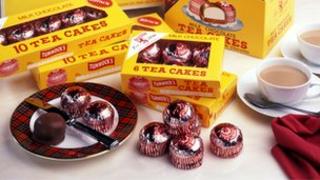 Scottish confectioner Tunnock's has said it hopes to "regain lost ground" this year after posting a fall in domestic and export sales.
The Uddingston-based makers of tea cakes and caramel wafers saw sales fall by about £2m to £32.5m in the year to February 2011.
The company cited economic uncertainty at home and abroad for the drop.
But it added the outlook had improved since the year-end, with higher sales in UK supermarkets.
Domestic sales fell last year by 4.5% to £27.9m, with exports down 15% to £4.6m.
Pre-tax profits leapt by more than 200% to £3.41m, largely as a result of unspecified successful legal actions. The company said the terms of the cases were confidential but they involved "trade matters".
Company secretary Bruce Reidford said: "Last year was tough as there was general uncertainty in the economy. This year the outlook is improving and we are seeing this in our sales to supermarkets.
"We are hoping to regain lost ground this year."
Tunnock's produces five million caramel wafers and three-and-a-half million tea cakes a week, and exports to 30 countries.
Last year, more than 500 workers at its South Lanarkshire factory were given a pay rise, following industrial action by more than 300 members of Unite union.