Greenpeace 'polar bear' protester cleared by court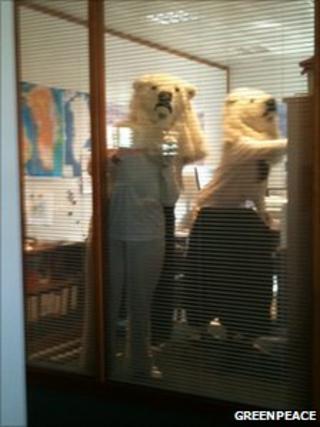 A protester who stormed the offices of an energy company dressed as a polar bear has been found not guilty of committing a breach of the peace.
Natasha Smith, 24, was cleared at Edinburgh Sheriff Court after Sheriff Roderick MacLeod ruled prosecutors had not proved she acted illegally.
Ms Smith, from Bristol, was in a group of more than 50 Greenpeace activists who raided Cairn Energy's offices.
The incident occurred at the company's Edinburgh headquarters in July.
The protesters occupied the building because they objected to Cairn's plans to drill for oil off the coast of Greenland.
Ms Smith was arrested and charged with placing Cairn Energy staff in a state of fear and alarm with her actions.
At the start of the trial, the court heard from a police officer who said protesters sang Bear Necessities from family musical The Jungle Book during the occupation.
He said they had "great fun".
In finding Ms Smith not guilty, Sheriff MacLeod said he accepted the environmentalists were not acting in a threatening fashion.
He said: "I'm not prepared to hold that people who have entered a building dressed in unusual costumes constitutes threatening behaviour.
"I don't believe that behaviour constitutes a threat in itself."
Sheriff MacLeod added: "The protesters were anxious not to place anybody under a state of fear and alarm. I therefore feel that I must return a verdict of not guilty."
The Greenpeace campaigners barricaded themselves in at Cairn's offices in July in protest over its drilling operations in the Arctic.
At the time, they said the company had failed to explain how it would deal with a deep-water drilling disaster similar to that which hit BP's Deepwater Horizon rig in the Gulf of Mexico last year.
Cairn's Arctic oil spill contingency plans have since been published by the Greenland government.