Weir buys US firm in £431m deal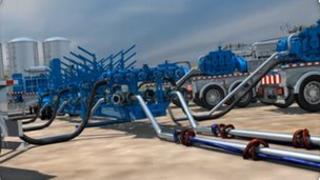 Engineering firm Weir Group has bought America's Seaboard Holdings, in a deal worth £430m.
The deal will boost its presence in the booming shale oil and gas industry in the US.
Texas-based Seaboard's expertise lies in "fracking", or fracturing, of shale formations to develop "unconventional" reserves of oil and gas.
Glasgow-based Weir said the deal would be complementary to its current business.
It said there had been "rapid growth" in demand for Seaboard's products and services.
Weir chief executive Keith Cochrane said: "Seaboard is a well-managed business, with a strong position in a market that we understand well. The acquisition is perfectly in line with strategy.
"It broadens our product offering and fits into our business model of growing the installed base of original equipment from which we drive aftermarket opportunities. There is great potential to strengthen the business further."
Weir will pay for the deal from new and existing bank facilities.
Seaboard president Kelly Joy added: "In recent months we have been looking for the ideal partner to take the business forward while retaining Seaboard's identity and commitment to customer service."
He added: "I am convinced that this is the best outcome for our employees, customers and shareholders."