Offshore firm Sparrows starts hiring staff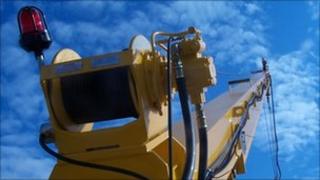 The offshore services company Sparrows has started to recruit more than 100 workers in Aberdeen after winning new contracts.
Sparrows specialises in supplying lifting equipment and staff for the oil and gas industry.
It recently announced it had won £32m worth of contracts from some of the country's biggest oil companies.
Sparrows which has 19 bases around the world has created 143 new posts, 101 of those will be based in Aberdeen.
It already employs more than 1,600 people worldwide, with 1,000 of those based in the UK.
The company said its expansion underlines confidence in its business and the global offshore markets.
Doug Sedge, chief executive of Sparrows, said: "Our confidence in the global offshore market and our robust order book has given us the confidence to kick-start a major recruitment campaign.
"The new positions will bolster our existing team to work on new and existing contracts and help us gear up capacity for further new business."
Sparrows is looking to recruit people for a variety of roles in fields including mechanical, electrical and design.
The company said that although it may be a takeover target this was not in its "short to medium-term plan".
Mr Sedge added: "We remain focused on, and committed to, building the business, bedding in new contracts and attracting, retaining and developing our people to deliver the high quality service for which we are recognised."