Shop footfall numbers in Scotland 'nose-dive'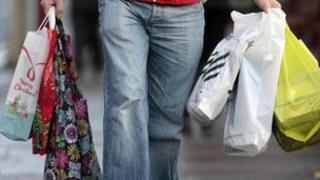 The number of people passing through Scotland's shopping areas has "nose-dived", according to a new study.
The Scottish Retail Consortium's quarterly "footfall" report for August to October recorded a 9% fall compared with the same time last year.
The Scottish figure compared to a UK-wide fall of 2.3%.
The study indicates the number of people going through town centres and other shopping areas, not how much they are spending.
Separate figures showed almost a tenth of Scotland's retail units were lying empty.
Scottish vacancy rates (9.6%) outperformed the north of England and the Midlands, as well as Wales and Northern Ireland, where vacancy rates reached double figures.
'Major change'
Scottish Retail Consortium director Ian Shearer said: "The number of people visiting Scotland's shopping areas has nose-dived since a year ago. This is further evidence of the pressure on consumers.
"Scottish consumer confidence is also lower and falling faster than the UK average, and retail sales have performed worse than the rest of the UK for most of this year.
"Household budgets are caught between soaring utility and fuel bills and low wage growth, leaving people with less money to spend on other needs and wants."
Mr Shearer added: "It's encouraging the town centre vacancy rate in Scotland has fallen and, in this case, is better than the UK average. But it's going to take a major change to tempt shoppers out again.
"Retailers are running special events and offering early promotions, helping households with seasonal spending as Christmas gets closer.
"Beyond that the Scottish government has to understand that retailing cannot withstand the 5.6% across-the-board inflation increase in business rates and a proposed new supermarket tax on top of that, both due in April, without knock-on effects."