Crowd funding blooms in Scotland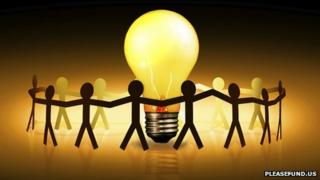 Crowd funding remains an unfamiliar term to many, even in the business community - but the concept is fast gathering traction as an alternative route to financing start-ups.
This week, a Scottish company launched what it said was the first crowd funding platform of its kind in the UK.
The platform enables anyone with an idea to reach out and approach complete strangers to invest in their project, using the internet and social networks.
Bloom VC (Venture Catalyst) aims to help start-ups, community projects and social enterprises find seed money through the crowd-funding model.
The concept was popularised by no less a person than President Barack Obama, who used online communities to raise millions of dollars for his presidential campaign in 2008.
Bloom is now taking the idea to entrepreneurs, with backing from innovation-promoters National Endowment for Science, Technology and the Arts (Nesta).
Funding gap
The company stresses crowd funding is not about replacing banks or traditional funding organisations.
It says it is simply filling a crucial funding gap at the very early stages and offering ongoing mentoring and support to help ambitious individuals and groups turn their ideas into reality.
Bloom founder and chief executive Amanda Boyle said: "We have set up a system where people pitch their projects, think about their business plan, put it out online, post it on Facebook, Twitter out the messages and let people know what they are doing, why they are doing it and how much they are trying to raise."
The process takes between 30 and 60 days. If the pitch is successful and they reach a pre-set financial target, they receive the funds and Bloom earns a 5% commission.
Ms Boyle continued: "It's an all-or-nothing method, so if they don't hit their target they get nothing - but neither do we.
"The people who are donating are making contributions - they are promising support and in return they get rewards.
"Somebody might have an app they've developed and want to see out in the world but they haven't got the funding to promote all of that."
She added: "The rewards they can offer can be a thank-you on their website, a credit on the app or it could be a copy of the app. So in return for a small contribution, they are pre-selling the product.
"The joy of it all for business is that the project owner, the business owner keeps all the equity."
Ms Boyle said there was a real need in particular to support students and graduates in science, technology and the arts.
She explained: "We now have more than a million young people who can't find a job, so are looking at starting their own business instead.
"Through Bloom, they not only raise the money they need to start up but they are also proving the concept, building a customer base, often pre-selling their product or service, and actively creating a community of fans who want to engage with them.
"And all without having to give up equity in their business."
Bloom says it has already attracted projects from all over the world.
'Great ideas'
The platform has launched with a number of projects, including an educational anti-sectarian film, dairy-free foods for babies and toddlers and a music discovery and promotions website.
Over the next week, the site will also feature an eco-friendly business which aims to recycle used coffee granules into plant food and an organisation that wants to turn one of the dirtiest beaches in the UK into a clean, tourist destination.
It will also feature what is billed as the world's first "Imax for the home" immersive dome display.
Robert Crawford, from Nesta, said: "There are a number of great business ideas out there that aren't able to attract traditional types of investment and support to become a reality and thrive.
"By using the web to jump-start new ideas and find new sources of funding, we believe we can do more to ensure more of these concepts see the light of day and are given the opportunity to drive the economy forward in future."
You can hear more about crowd funding by listening to BBC Radio Scotland's Business Scotland programme on Sunday at 10:05, and later by free download.