Festive fears as Scottish shop sales fall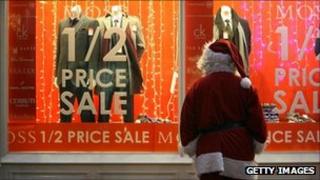 Shopkeepers fear they are facing a grim Christmas after the latest retail sales figures showed yet another fall.
The Scottish Retail Consortium said total sales in October were down by 0.1% on the same month last year.
Like-for-like figures, which strip out the effect of new store openings, dropped by 1.5% from 12 months ago.
Sales in Scotland have declined in three of the past six months and spending in Scotland is trailing behind the UK as a whole.
UK sales figures showed that the value of total sales actually increased by 1.5% and like-for-like fell by 0.6%.
The consortium said that consumer confidence appeared to be much weaker in Scotland than elsewhere.
"Cash cow"
Ian Shearer, Scottish Retail Consortium director, said: "Retailers are still hoping for some festive magic but these gloomy figures are not a good start to the Christmas build-up.
"Non-food retailing continues to struggle as customers cut back on things they don't need immediately, but food sales have been hit too."
He added: "And life is tougher for retailers in Scotland because households here are generally more concerned about personal finances, jobs and cuts."
The consortium said that Scottish retail sales had performed worse than the rest of the UK for most of this year.
The retail organisation said that the Scottish government could no longer regard retailers as an "invulnerable cash cow".
Mr Shearer called for a rethink on government policy.
He said: "It should not add the 5.6% inflation increase to business rates bills next April.
"And it cannot expect to impose a supermarket tax without affect, when it would increase the rates of affected stores by a further 22%."
Priority spending
The survey has suggested that shoppers are holding back on spending on anything but essentials.
Furniture and floor coverings did not sell well and clothing sales have been down in "for all but two of the past 19 months".
David McCorquodale, head of retail in Scotland at KPMG, said: "With so much uncertainty around employment, family budgets and world markets it is no surprise that Scottish consumers remain reticent as their personal finances become harder to manage."
He added: "The success of the Christmas season for retailers hangs in the balance as October's results do not set a strong foundation."