Dairy firm Robert Wiseman to launch 'purer milk'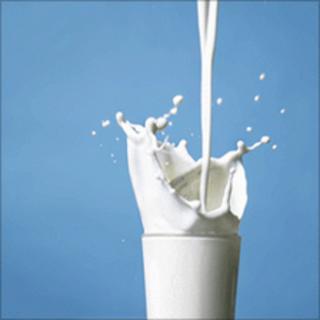 Dairy firm Robert Wiseman is to start selling a "purer" type of milk - thought to be more suitable for people with dairy intolerance - in the UK.
It has teamed up with a New Zealand firm to launch a2 Milk.
The East Kilbride group claims the "original" milk has a formula which is similar to that produced by cows thousands of years ago.
The dairy firm made the announcement as it unveiled a sharp fall in pre-tax profits due to increased costs.
In the six months to October, pre-tax profits fell by 42% to £11.8m.
The company supplies a third of the fresh milk consumed in the UK.
Robert Wiseman Dairies has put up the prices paid to its farmers three times since March and the cost of some of its raw materials, such as the plastic resin used in bottles, has also risen.
Wiseman warned the squeeze on its margins could intensify if costs rose further, but said it hoped to make efficiency savings to offset the pressures.
'Original milk'
The Scottish dairy group said it was investing £2m in the tie-up with the New Zealand-listed A2 corporation, which holds the intellectual property for a2 Milk.
The milk from specially-selected cows only contains A2 beta-casein protein, which all dairy cows produced before genetic changes took place several thousand years ago.
Modern conventional milk contains both the A1 and the A2 beta-casein protein.
A2 Milk has been on sale for a number of years in Australia, where it has proven popular with people who, although not medically diagnosed, believe they are intolerant.
Wiseman said it hoped to launch a range of new products in summer 2012.