PwC Scotland chief Frank Blin to step down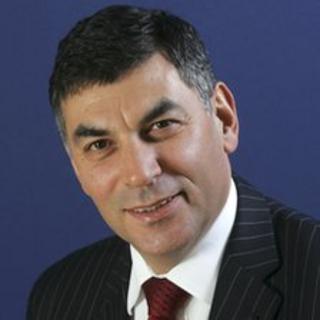 Frank Blin has announced he is to step down as executive chairman of accountancy firm PricewaterhouseCoopers (PwC) Scotland.
Mr Blin, 57, will retire from his post in June next year after 38 years with the firm.
He said he would "take up various opportunities and explore options" in the next phase of his career.
His successor will be Lindsay Gardiner, who is currently head of assurance services at PwC in Scotland.
During his time with the firm, Mr Blin worked across PwC's global network, including Europe, the Middle East, China, Asia and the United States.
He was appointed head of UK regions for PwC in 1998 - a post he held for 10 years - overseeing the merger of Price Waterhouse and Coopers & Lybrand.
During his tenure, the company's UK regional practice revenues increased from £600m to £1bn.
Honours
Mr Blin was awarded the CBE in June 2002, in recognition of his services to the Scottish financial sector. In 2010, he received an honorary degree from the University of Strathclyde.
Mr Blin said: "The last 38 years have been fantastic - I have had a ball.
"I will leave a really talented team who I have no doubt will take the business from strength to strength.
"I have worked with many outstanding clients and colleagues across numerous interesting and complex assignments and look forward to continuing with this over the next few months."
He added: "It is an exciting time for me as I take up various opportunities and explore options whilst taking this experience into the next phase of my career."