Scots firms tap into global luxury market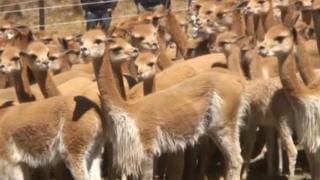 Luxury, it seems, is very much back in fashion.
Since the global financial crisis sent markets into a spin, spending on high-end brands has begun to gather pace.
The global luxury market is expected to grow by 10% this year to reach £170bn.
Much of the demand is down to a surge in consumer demand in the faster growing economies of China and India.
But luxury is stilling selling across Europe and the US.
That is good news for Scottish companies such as Holland and Sherry in Peebles.
More than 170 years old, it supplies some of the world's finest cloths to tailors and interior designers.
Deep pockets
Holland and Sherry sends samples worldwide so customers can pick the fabric they want for their suit or jacket.
But deep pockets are required.
Recently the company took delivery of its first vicuna cloth - said to be the finest, softest and costliest fibre in the world.
Finance director Frank O'Reilly explained: "Vicuna is a wild animal that lives in South America at an altitude of above 12,000ft.
"The local people can shepherd in all the animals when it is time to obtain the hair of the underbelly - the finest part.
"They can harvest that but to get the purest vicuna, it took us five years' harvest to get enough to produce 300m of cloth.
"The cloth sells for approximately $5,000 a metre."
At that rate, it would cost about £15,500 ($25,000) to buy enough fabric for a suit.
Appetite for luxury
Even in the past few years, Mr O'Reilly hasn't seen the appetite for luxury diminishing.
Holland and Sherry has opened new showrooms in Los Angeles, San Francisco and Dubai.
And the Peebles headquarters is sending out about 10,000m (32,800ft) of high quality cloth a week.
"People still like luxury," he said.
"They work hard and they want to treat themselves - they have developed their careers and they want to reward themselves with having luxury products.
"With our product, the suit is made for you.
"There are very few products you can say 'I've actually had this made for me'. You can't do it with a watch - you can have different options but it's not been made for you."
The company's biggest market is the USA, followed by Italy, France and the UK.
Mr O'Reilly seemed surprisingly calm about recent economic developments in the eurozone.
He explained: "Italy is a cause for concern but it is counterbalanced by the fact we are doing better in Germany. France is still buoyant.
"Overall we are a little bit up in Europe, so because of our spread there is no one market that really concerns us too much."
Glasgow jeweller Eric Smith, who designs many of his own pieces, said business had picked up.
He continued: "In the first instance a couple of years back, there was a huge impact and we dropped like a stone.
"This in many cases was a knee-jerk reaction.
"Lots of people in the luxury business found that their customers didn't want to spend money because they didn't know what was going to happen. There was a fear factor."
He added: "This has gradually stabilised, people have come to terms with their financial situation whatever that might be and gradually there's been a stability creep back into the marketplace."
You can hear more about the luxury market by listening to BBC Radio Scotland's Business Scotland programme at 10:05 on Sunday 13 November and later by free download.