Native Shetland wool secures protected status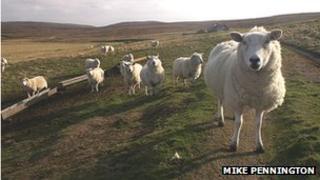 Native Shetland wool is set to secure protected status, following a six-year battle by local crofters and farmers.
The wool is to be granted Protected Designation of Origin (PDO) under the European Union's Protected Food Name scheme.
It will become the UK's first non-food and drink product to be registered under the scheme.
Formal legal protection for "Native Shetland Wool" will come into force before the end of November.
The designation will give consumers a guarantee they are buying a genuine, premium product from Shetland.
The wool joins products such as Shetland Lamb, Cornish Clotted Cream and Blue Stilton Cheese in receiving PDO accreditation.
The application was made six years ago by ShetlandOrganics, a community interest company of crofters and farmers formed to initiate a series of business development projects.
ShetlandOrganics said its successful bid had come at the right time, as surging demand for genuine wool products had resulted in a huge rise in market prices for Scottish sheep fleece.
'Well-deserved'
Dorota Rychlik, from ShetlandOrganics, said: "We are all delighted that as ShetlandOrganics members, we have finally received the well-deserved accreditation which, we find, means a lot to our well-informed customers and buyers of our outstanding woollen products.
"We could not have hoped for a better boost for our long-term determination to achieve European and worldwide recognition for the special quality of Shetland wool."
Rural Affairs Secretary Richard Lochhead said: "Scotland is home to some of the most popular protected food name products in Europe - including Scotch Beef and Scottish Farmed Salmon - and I'm delighted that Native Shetland Wool joins this exclusive club as the first non-food product.
"This PDO proves there is further opportunity for farmers through animal by-products to carve out a prestigious, desirable commodity as well as food and drink."
He added: "Scotland is a land rich in raw materials and the Scottish government will work with companies to make sure more of our iconic produce has maximum protection.
"There is no substitute for our fantastic Scottish produce, and the market clearly shows this."