BAA Scottish airports outperform UK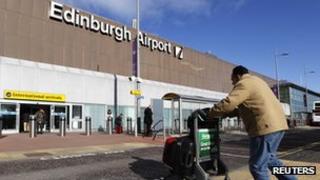 BAA's Scottish airports outperformed the rest of its UK operations last month, according to latest passenger figures.
User numbers at Aberdeen, Glasgow and Edinburgh rose year-on-year by a total of 2.1%.
That contrasted with a fall at BAA's three English airports - Heathrow, Stansted and Southampton - compared with the same period a year ago.
Overall, UK passenger traffic fell by 1.3% during October.
Aberdeen continued its recent strong performance with a 7.6% increase in passengers last month.
Glasgow was up by 0.3% on a year ago and recorded increases of 35% in European scheduled traffic and 47% in North Atlantic passengers.
BAA said Edinburgh continued its "strong and resilient growth", with passenger numbers up by 1.8% compared with the same month in 2010.
Growth was helped by nearly 20 new routes that have been operating at the airport since the beginning of the year.
Airport sale
The latest figures came as several groups lined up to prepare a bid for Edinburgh.
The airport is due to be sold next year after BAA was told by competition regulators to let go of one of its Scottish hubs.
US private equity group Carlyle Group has already confirmed it is leading a consortium with a view to launching to bid.
Carlyle is being advised by Edinburgh investment banker Sir Angus Grossart.
Another Scottish investment banker, Ben Thomson, is also understood to be putting together a consortium.
Edinburgh City Council, meanwhile, has said it is "very unlikely" to pursue a bid.
A spokesman said: "While we are always open to innovative ideas, it is very unlikely that we would be pursuing council ownership of the airport.
"Instead, our focus will be on working with the new owners to ensure that we build on the airport's success to date."
BAA said its overall dip at UK airports last month reflected weak global economic conditions.
At London's Heathrow, numbers fell 1.3% - the first monthly fall since December 2010.
Overall the company saw a 9.9% fall in domestic UK traffic.
BAA currently runs six airports in the UK - Heathrow, Stansted, Southampton, Glasgow, Edinburgh and Aberdeen.