Falkirk Herald makes shift to tabloid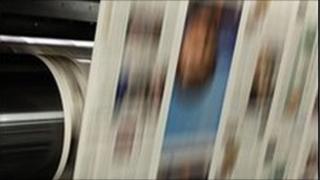 One of Scotland's best-selling weekly newspapers is changing to a tabloid format after 166 years as a broadsheet.
The Falkirk Herald has been relaunched after "extensive" consultation with readers, owners Johnston Press said.
A range of other improvements will also be made to the title, according to the company.
The newspaper was first printed with the Stirlingshire Monthly Advertiser in 1845 and was bought by the Johnston family a year later.
It switched to a weekly edition in 1851 and Johnston Press said it had gone on to become a "cornerstone" of the family's local newspaper empire.
The publishing company was floated on the stock exchange in 1988 and went on to own more than 130 weekly, evening and national titles, including The Scotsman.
Falkirk Herald staff marked the paper's relaunch at an event in Falkirk's Callendar House.