Pension firm Aegon results hit by redress costs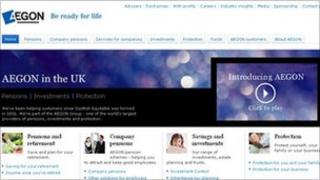 Pensions giant Aegon is continuing to count the cost of redressing administrative failings regarding customer records.
The company, whose UK operations are based in Edinburgh, reported overall earnings dropped 11% to £8m in the third quarter.
Aegon paid out £5m in customer redress over the period, with a further £7m incurred in costs.
The total compensation cost has now reached £100m.
The pensions provider, operating under the brand Scottish Equitable, was ordered to pay a total of £60m in redress to thousands of customers following an investigation into the company's procedures last year.
Aegon was also fined £2.8m by the Financial Services Authority (FSA) for the problems it caused for customers.
These included incorrect pensions calculations, not issuing thousands of policyholder documents, and failing to trace policyholders who had moved home.
Aegon's third-quarter results also revealed costs of £13m for a continuing restructuring programme.
The firm is planning to cut operating expenses by 25% by the end of 2011.
More than 1,000 jobs have been lost so far between Edinburgh and offices at Lytham St Annes, Lancashire.
This week, Aegon announced it would consult with employees and unions Aegis and Unite over proposed changes to its employee pension schemes.
In a statement, the company said: "As Aegon nears completion of its restructure and cost-saving programme it has considered all areas, including its employee pension schemes, to identify ways to ensure the company achieves a sustainable operating cost base for the business and makes the best use of its capital.
"Aegon also aims to move to more equitable pension provision for all employees, regardless of length of service."