Oil industry investment 'harmed by Budget tax hike'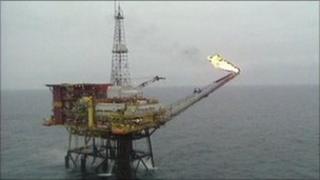 More than half of oil and gas operators surveyed believe the Budget's £2bn industry tax hike has harmed North Sea investment, according to a new report.
The 15th Aberdeen and Grampian Chamber of Commerce (AGCC) oil and gas survey said confidence and investment were still being dented by the Budget move.
The supplementary tax on North Sea oil production rose from 20% to 32% to fund a cut in UK government fuel duty.
Chamber chief executive Robert Collier said it had harmed potential.
Twenty operators were surveyed and half responded.
Mr Collier said: "When David Cameron visited Aberdeen in October he said the budget tax increase had not damaged the industry.
"Our survey has shown that 50% of oil and gas operators felt it had negatively affected investment plans.
"Whilst the tax grab may not have halted all future projects, what it has done is harm the potential of the North Sea and risks some fields being left undeveloped."