Cairn finds signs of oil in wells off Greenland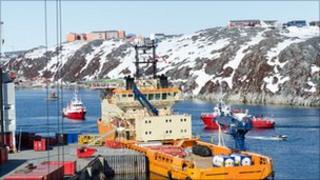 Edinburgh explorer Cairn Energy has found indications of hydrocarbons in two wells off Greenland.
The group said it encountered reservoir quality sands which could hold oil and gas deposits on the AT7-1 well and minor hydrocarbon shows at the AT2-1.
Cairn has drilled five wells in its Greenland campaign this year and the first three were plugged and abandoned after being found dry.
The group's shares rose by more than 5% on the news.
The campaign is costing the group about £400m.
Cairn's focus has moved to Greenland since it announced it would reduce its stake in its Indian unit.
However, its activities in Greenland have been disrupted by environmental protesters.
Cairn won a court order banning Greenpeace protesters from approaching its drilling vessels.
Because of the harsh weather, Cairn only has a short window in the summer in which to explore in the Arctic.