Concerns grows over Scottish air links to Heathrow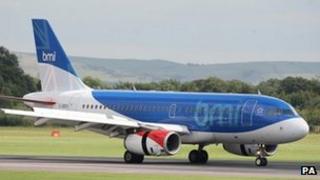 Concern is growing over the future of Scotland's air links to Heathrow Airport following news that the owners of British Airways (BA) are to buy rivals British Midland (BMI).
The move by International Airlines Group (IAG) would give BA a monopoly of routes between Heathrow and Scotland's three largest cities.
BMI suspended flights between Glasgow and the hub airport earlier this year.
It still runs flights from Edinburgh and Aberdeen.
Scottish business leaders said they were "very concerned" the takeover could lead to fewer flights or higher fares and would be seeking reassurance from UK and Scottish ministers that domestic slots will be safeguarded.
The Scottish government said ministers recognised the importance of Heathrow to Scotland.
A spokesman said: "It is too early to say what any impact would be for Scotland.
"However, the Scottish government will be keeping in touch with British Airways to ensure there are no adverse implications - arising from the dominant position of BA in the event that they were successful - for Scotland's connections as a result of any takeover."
IAG argued the deal would enable it to strengthen domestic links and safeguard services between the regions and the UK's hub airport.
In a statement it said: "We are the largest operator from Scotland to Heathrow with flights from Glasgow, Edinburgh and Aberdeen. We also fly from Edinburgh and Glasgow to both Gatwick and London City.
"The main threat to access from the regions to Heathrow is the government's determination to undermine the UK economy and aviation by high levels of taxation."
Scottish Chambers of Commerce chief executive Liz Cameron commented: "We have already experienced reduced flight capacity from Scotland to Heathrow under the BA strategy.
"Scotland needs to have reliable, affordable connectivity to London and ongoing internationally.
"The fear is that BA's purchase of BMI will translate into fewer flights, limited competition and increased costs to passengers."
She added: "We are all very aware of the value of BMI's landing slots at Heathrow - these should be safeguarded for domestic markets and not have the potential to place businesses operating in and out of Scotland at a disadvantage.
Edinburgh and Aberdeen and Grampian chambers of commerce also aired their concerns.
Graham Birse, from Edinburgh Chamber of Commerce, commented: "We would not be impressed if one-by-one valued domestic slots at Heathrow were to diminish and disappear.
"Our recovery has been a very difficult period, and at this time we need to trade with the world.
"That requires the maximum number of slots and connections, both domestic and international."
No details have yet been given of how much IAG will pay for loss-making BMI, which is owned by Lufthansa.
The airlines said they hoped to sign a purchase agreement "in the coming weeks" and complete the deal before April 2012.
The sale still has to be cleared by regulators.