Oil explorer Bowleven 'progress' in Cameroon after loss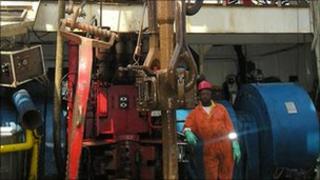 Oil and gas explorer Bowleven has reported "considerable progress" in its west Africa drilling campaign, having written down earlier unsuccessful exploration costs.
The Edinburgh-based firm posted a pre-tax loss of $76.8m (£48m) for the year to the end of June.
The figure included write-down costs after relinquishing its Epaemeno permit in Gabon and a foreign exchange loss of $22.6m (£14.1m).
Bowleven, whose operations are focussed in west Africa, reported a profit in the previous year.
The company said it had enjoyed a successful multi-well exploration and appraisal drilling its campaign off Cameroon during the year, with oil finds at all of the Sapele wells it had drilled so far.
Chief executive Kevin Hart said "considerable progress" had been made across the firm's Cameroon acreage.
"The initial discovery of oil and gas condensate with the Sapele-1 exploration well was a key event for the company," he said.
"The subsequent three Sapele wells drilled all encountered hydrocarbons and we are particularly encouraged that at every location where these intersected the Deep Omicron interval we have encountered oil."
He added: "We are now more convinced than ever about the exploration and development potential of our acreage and we look forward to pursuing the opportunities our Cameroon acreage holds."
Bowleven shareholders are due to meet on 7 November to vote on plans to raise more than $120m (£75m) through a placing of new shares.
If approved, the cash would be put towards the company's proposed work programme in Cameroon next year.