Pub chain warns of rising prices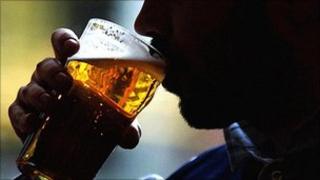 Major pub chain Punch Taverns has claimed the brewer of Tennent's lager is pushing prices up sharply.
Punch, which has 311 leased pubs in Scotland, has told landlords they should look to alternative lager suppliers.
It said it will absorb the increased price from 1 November, but only until early in the New Year.
After that, it said it would review supply prices and warned of increases to customers.
In a letter to publicans, Punch wrote: "We will limit (the rise) to whatever extent we can, but we expect the price for Tennent's lager to increase substantially following the review.
"To protect your profitability, we strongly recommend that you act now and take the opportunity to revise and extend your draught lager portfolio before the Punch wholesale price review takes effect."
John Healy, from Punch Taverns, told publicans other major national suppliers would be pleased to discuss options on other draught lagers.
He added: "We expect these alternatives to be competitively priced and well supported with promotional activity."
Negotiations
Following the breakdown in talks between Punch and Tennent Caledonian, which sells its lager through seven out of every ten pubs in Scotland, the brewer has said there is no wholesale price increase across the market.
But it does negotiate on price with customers, and price depends on the volume of beer they can sell.
While it has not said how much more Punch Taverns is paying following the contract talks, the brewer said reports in the drinks trade media of an increase of 30p to 40p per pint were exaggerated.
In a statement, Tennent Caledonian said it was "extremely disappointed" that Punch Taverns had chosen to communicate with their publicans in the manner it did.
It continued: "Tennent's does not control the price that our customers charge their customers, nor over the bar.
"Our renegotiated deal with Punch Taverns should not result in a price increase of the magnitude being alleged and, in fact, it does not follow that there should be any price rise for publicans or consumers."
Tennent's said the renegotiations involved less than 5% of Scotland's 11,500 licensed premises and the vast majority of Scotland's licensed premises were unaffected.
It added: "We would like to reassure our customers and our drinkers that Scotland's favourite pint will continue to be available in pubs across Scotland - and at significantly less than £3.50 a pint."
In a separate move, the Glasgow brewer - owned by Irish cider-maker C&C - is cracking down on those publicans who buy their Tennent's from unauthorised suppliers, telling them they have to give up their free draft dispensing gear or face legal action.
Tennent's commented: "On the issue of the separate letter that was sent to less than 20 outlets regarding the use of Tennent's dispense equipment, we reserve the right to take whatever steps necessary to preserve the quality of Tennent's being served across the bar."