Weir Group to invest £4m in Dubai base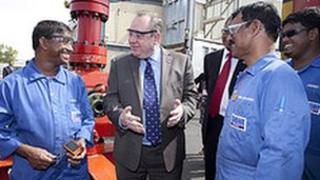 Glasgow engineering firm Weir Group is to expand its presence in Dubai by investing £4m in a new facility.
The 25,000 sq m base will bring Weir's total investment in the emirate since the 1980s to more than £10m.
The facility in Jebel Ali Free Zone will be equipped with new machinery and equipment to support the company's growth plans for the region.
The investment was unveiled by First Minister Alex Salmond during a five-day trade visit to the Middle East.
The move is expected to increase Weir's workforce in Dubai from 225 to 300.
Mr Salmond said: "Weir is an excellent example of a Scottish company with a global vision and this investment sends out a signal that even in these tough economic times industry must be seen to be making decisions about growth and expansion."
'Pioneering work'
He added: "After many years in the region, the company's name has become synonymous with pioneering work and this new headquarters will ensure that the Weir name will continue to play a significant role in the region.
"Weir has been one of the biggest corporate success stories in Scotland in recent times."
Weir chief executive Keith Cochrane said the new base would bring together the firm's three market-focused divisions on one campus for the first time.
He added: "We believe that the Middle East has strong growth prospects and the group's operations and expertise leave us well positioned to benefit."
During his visit to the Gulf, the first minister has held talks with political and business leaders, and opened Scottish education and legal offices.