Scotland's retail sales fall during the summer period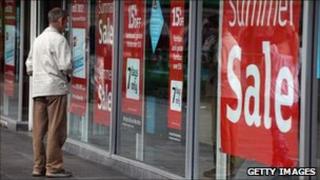 Scottish shoppers appear to have bought less but spent more during the summer months.
According to official figures, the volume of retail sales in Scotland fell by 0.3% between July and September but over the year grew by 0.5%.
The value of sales grew in the same quarter by 0.6% and by more than 3% over the year.
Across the UK, the volume of retail sales fell by 0.1% in the three months and their value grew by 0.8%
With inflation running at more than 5%, these latest figures suggested shoppers were being squeezed by the higher cost of many items and were buying less but spending more.
Commenting on the figures, Finance Secretary John Swinney said: "Our annual retail growth is on par with GB levels, however sales have fallen away in the last quarter and this is a further warning that we need the Westminster government to act now and implement a Plan MacB."
He added: "This should focus on increased capital investment, improved access to finance as well as the introduction of measures to boost economic security."