Dundee waterfront plans secure £300m investment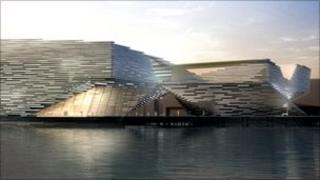 Dundee's waterfront project has secured £300m of investment, it has announced.
The money - a third of the £1bn target needed to transform the area - has been pledged from a number of private and public bodies.
The development includes several major projects, such as the V&A at Dundee and new local authority headquarters.
A flood prevention scheme will be built to protect businesses and work on surrounding infrastructure is already under way.
The city's waterfront project is split into five strategic sites, including an area for digital and media industries, one for residential property and another for offshore wind and tidal manufacturing businesses.
The Spanish wind turbine operator Gamesa has said it is close to deciding where to site its new factory, with Dundee on the shortlist.
Mike Galloway, Dundee's director of city development, said: "Dundee Waterfront is attracting a growing amount of interest, enquiries and, crucially, hard investment from a wide variety of quarters.
"We are well advanced with our plans and investment to completely re-engineer and transform the city."
Allan McQuade, Scottish Enterprise business infrastructure director, commented: "Scottish Enterprise is involved in a number of projects throughout the Dundee Waterfront as part of our commitment to this transformational programme, and welcomes the progress made to date and its potential contribution to the Scottish economy."