Anti-wind farm campaigners stage conference in Ayr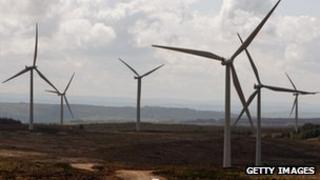 Campaigners have laid out their opposition to the Scottish government's wind farm policy at a national conference in Ayr.
The event was organised by Communities Against Turbines Scotland (Cats) and chaired by South Scotland Labour MSP Graeme Pearson.
The keynote speaker at the conference was Scottish Conservative MEP Struan Stevenson.
Protesters from across Scotland attended the event.
Mr Stevenson commented: "All over Scotland we are seeing giant wind turbines cropping up all over the countryside and people are beginning to say enough is enough.
"The time has come for the government to think again about its wind farm policy.
"We all stand to suffer from the growing scourge of wind farms and the inestimable damage they do to our landscape, economy and national prosperity, all for a negligible return on energy and environmental benefit."
Mr Pearson said he had witnessed "a real concern" among communities across the south of Scotland about wind farm development and its impact.
He added: "At the same time fuel poverty and the economics behind these developments seemed mired in complexities.
"This conference will give an opportunity to the public to better understand the issues."
Other speakers invited to the event included Iain MacLeod, professor of structural engineering at the University of Strathclyde, former Power Network director at the National Grid, Colin Gibson, and head of policy at the John Muir Trust, Helen McDade.
'Green energy powerhouse'
In noting the conference, the Scottish government said Scotland had the natural renewable resources to become "the green energy powerhouse of Europe", using all forms of renewables such as hydro, wave, tidal and offshore wind.
A spokesman said: "That's why we have set an ambitious - but achievable - target of the equivalent of all of Scotland's electricity consumption from renewables, not just wind, by 2020.
"The Scottish government will only approve the right wind farms applications in the right places - and those applications that do not meet the strict criteria are rejected.
"Wind farms can create opportunities for communities, delivering jobs and investment, and our planning guidance for local authorities makes clear that developments must be carefully sited to minimise impacts on the environment or local amenity."
He added: "We believe effective engagement with the public can lead to better plans, better decisions and more satisfactory outcomes and can help to avoid delays in the planning process."
Environmental campaign group WWF Scotland said Scotland's renewable ambitions were "perfectly achievable and realistic".
Dan Barlow, the group's head of policy, said: "The legacy of Struan Stevenson's proposals would be missed climate targets, a pile of toxic nuclear waste, energy bills at the mercy of volatile global gas prices and thousands of lost green job opportunities."