Axis-Shield of Dundee makes US clinic deal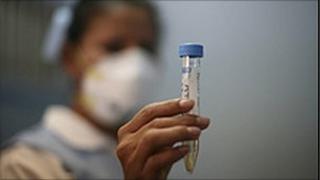 Medical diagnostics firm Axis-Shield has struck a deal to supply America's largest provider of walk-in clinics with one of its lead testing products.
The agreement will see the firm's Afinion analyser used in all 600 of MinuteClinic's locations in the US.
The analyser will allow patients to access haemoglobin A1c testing, with results provided in three minutes.
The move comes only weeks after Dundee-based Axis-Shield agreed to be taken over by US firm Alere.
MinuteClinic is a division of CVS Caremark, the largest pharmacy health care provider in the United States.
MinuteClinic's walk-in clinics are staffed by nurse practitioners and physician assistants, who provide treatment for common family illnesses and injuries, administer vaccinations, conduct physicals and wellness screenings.
They also offer monitoring for chronic conditions such as diabetes, high cholesterol, high blood pressure and asthma.
Axis-Shield chief executive Ian Gilham said: "We are pleased to be partnering with the largest provider of walk-in medical clinics to bring the simplicity and reliability of Afinion directly to patients, enabling widespread access to routine haemoglobin A1c testing."
Last month, Axis-Shield agreed to be taken over by American company Alere after the US firm sweetened its original offer for the company after a three-month battle.
It is understood Alere wanted Axis-Shield primarily for its point-of-care technology, which provides immediate and portable diagnostics.