Easyjet's new Dutch route from Glasgow takes to the sky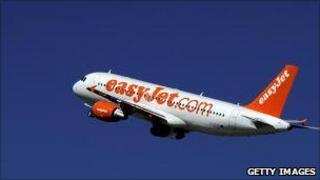 Easyjet has launched its latest route from Glasgow to Amsterdam's Schipol Airport, its 15th out of the city.
The airline will operate six flights out of Glasgow until the end of March and a daily flight will operate during the rest of the year.
Easyjet said it also plans to increase business travellers and had put on more Glasgow to London flights.
The airline said it had recently added a 180-seat Airbus 320 to its Glasgow fleet.
That has helped increase the airline's capacity out of the west of Scotland airport by about 250,000 seats each year.
Hugh Aitken, Easyjet's commercial manager for Scotland, said: "2011 has been an incredible year for Easyjet in Scotland.
"The launch of our first flight from Glasgow to Amsterdam represents a fantastic milestone and is testament to the drive and energy of all those involved."
Amanda McMillan, managing director at Glasgow Airport, said: "This announcement, along with Easyjet's decision to increase capacity on existing routes, demonstrates the airline's commitment to its customers, the airport and the city".