Cost 'sank' Longannet carbon capture deal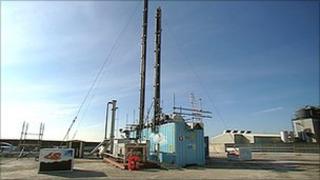 Cost was the only reason for cancellation of the £1bn carbon capture project at Longannet power station, according to Scottish Power.
Keith Anderson, chief corporate officer for the company, told BBC Scotland the engineering and design study was "a huge success".
But Mr Anderson said the bill would have been £1.5bn.
The UK government decided it did not want to spend more than £1bn on supporting the trial.
Longannet, in Fife, was the only contender in a long-running competition by the government for a power plant that could become the test ground for carbon capture and storage.
This is seen as vital to the future of energy worldwide while cutting carbon emissions.
Industrial testbed
The technology seeks to remove carbon or capture the emissions in a coal- or gas-burning power plant, then to process them, and transport them out to sea, where they could be buried in porous sub-sea rock formations.
However, it has not been proven on an industrial scale, and Longannet was seen as the testbed for it, with more than £40m spent on designing an industrial-scale project.
Earlier this month, the Department of Energy and Climate Change pulled the plug on Longannet, saying cost was one factor.
Energy Secretary Chris Huhne also claimed there were "specific" technical difficulties with Longannet, including the length of pipeline from the Fife coast to the North Sea oil fields where the carbon was to be pumped.
He said the scheme could not be made to "stack up" and would have required much more money.
Scottish Power said at the time it was very disappointed, but now, Mr Anderson has spoken in more detail about the company's position.
He told the Business Scotland programme: "The whole process of the engineering and design study ended up being a huge success.
"That may sound like a strange comment, but the whole purpose of the study was to see if it was possible and deliverable to build a carbon capture and storage unit.
"What's come out of it was: yes, it can be done. It also looked at the costs associated with that, so we can understand before we start."
Technical difficulties
Asked about the technical problems such as the length of pipeline, Mr Anderson said: "There are a whole load of features and things that feed into the category of cost, around the technical difficulties of installing and developing and building the unit, the difficulties around pipelines, around storage.
"All of that fed into the engineering study, so it all plays a part in that decision making process. But fundamentally, where we reached was - 'Here's how much it's going to cost. Does the government think in the current climate is this is a sensible use of £1.5bn?'
"They came back and told us - 'No, therefore we have to bring the process to an end'."
Mr Anderson, who only recently took on the top UK job for the subsidiary of Spanish power giant Iberdrola, was challenged on whether Scottish Power was artificially inflating the cost of building the plant.
He said: "The UK is littered with people jumping into big infrastructure decisions, and then finding out, half way through, they were more difficult than we thought, a bit more costly than we thought, and they would take twice as long as we thought.
"We were absolutely determined that was not going to happen with CCS.
"We have no interest as an organisation, and the government has no interest, in finding out half way through it was going to cost twice as much as we thought.
"We put forward the most detailed study ever done on CCS, and the costings associated with it. Yes, there is some uncertainty and yes, you put some contingency in around those costs, because at the end of the day, it's a research and development project. You need to be pragmatic about that."
Dunfermline SNP MSP Bill Walker called on the UK government to "come clean" on why the Longannet venture had failed.
He said: "UK ministers were happy enough to visit Longannet for publicity and pictures but were not willing to put up the long-term investment that would put Scotland and Fife at the future of clean energy generation and boost employment across the area.
"Chris Huhne has been caught out. Scottish Power are clear it could be done and that there were no technical difficulties."
Keith Anderson was interviewed on Longannet, rising energy bills and the future of energy supply on Business Scotland, BBC Radio Scotland, on Sunday 30 October at 10:05. It can be heard on the BBC iPlayer and by free download.