Mactaggart and Mickel reports profits leap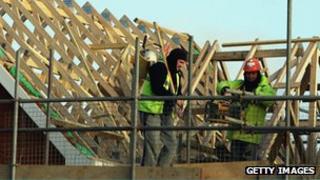 Housebuilder Mactaggart and Mickel has reported a surge in turnover and profits as home sales rose by a third last year.
The Glasgow-based firm said turnover for the year to the end of April rose by 19% to £48.1m, while pre-tax profits leapt by 10% to £4.26m.
It recorded a 33% rise in home sales, with a total of 145 units settled.
The builder said it was "cautiously optimistic" about its prospects for the year ahead.
Chief executive Ed Monaghan said: "We are pleased to report profitable progress this year, particularly given the challenging trading conditions across the UK construction market.
"Our robust group business model, pragmatic investment strategy and commitment to building quality were key factors which contributed to a year of sound performance across the group.
"Our cautiously optimistic outlook for the year ahead reflects the wider industry conditions, with constrained mortgage lending expected to continue."
He added: "We will continue to diversify our successful business, a strategy that has generated increased turnover from every area of the business this year, despite a difficult market.
"In addition we move forward having successfully secured bank support for the next three years, allowing us to continue to pursue acquisitions and invest in our business appropriately."