CBI Scotland survey: Export orders growth set to end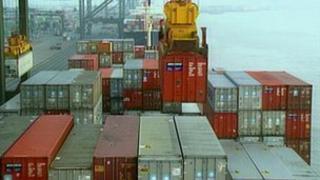 Firms expect sustained growth in Scottish manufacturing export orders to grind to a halt in the next quarter, according to a CBI Scotland survey.
The business organisation said orders were expected to contract at their fastest pace for four-and-a-half years.
It suggested firms were increasingly concerned about economic and political conditions abroad.
Its latest industrial trends survey followed seven consecutive quarters of export growth.
The survey - which includes sectors such as textiles, chemicals, food and drink, metals manufacturing and electrical engineering - indicated new domestic orders in the three months to October remained negative for a second successive quarter.
Expectations for the next three months were the poorest since April 2009.
Scottish industry reported another rise in average unit costs - albeit at a slower pace than in the previous two quarters - but were not able to pass this on in the form of higher domestic prices.
CBI Scotland director Iain McMillan said it was a "disappointing" set of results.
'More headwinds'
He continued: "Worries over the problems in the eurozone, the sustainability of sovereign debts more widely and the political will to deal with them have grown, making conditions for our manufacturing exporters more challenging.
"While our exporters have more headwinds to battle against, we do think there are things that government here can do to help.
"That is why we continue to argue that the Scottish government's spending plans should be improved in order to better galvanise growth. A far bolder approach to making savings is required, in order to release monies for further investment in infrastructure and support for exporters."
Mr McMillan said the decision to block extra runway capacity at Heathrow and Gatwick had "raised questions" over the UK government's commitment and strategy for helping Scottish firms export and expand abroad.
He added: "If we are to see a re-balancing of our economy towards investment and exports, then it is important that firms are able to access London's key interlinking airports in order to target key overseas markets or service foreign-based customers."
Earlier this month, official figures indicated growth in Scottish export sales slowed in the second quarter of 2011.
The Index of Manufactured Exports suggested exports grew by 1.1% in real terms during the period - compared to a rise of 3.9% in the previous quarter.