A new Scottish airline?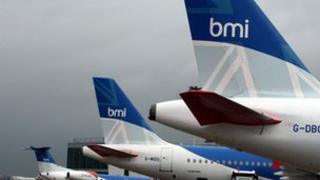 Aviation may be very safe these days, but it's a risky place to invest, with notoriously poor returns. It's also consolidating rapidly.
One expert I know (and who ought to know) reckons the next few years will see mergers leaving only five airlines in Europe: IAG (British Airways/Iberia), Air France/KLM, Lufthansa, Ryanair and Easyjet.
So it's a move by aviation's brave hearts to want to carve out a new Scottish airline.
I'm told several experienced professionals, based in Scotland, are in an advanced talks with Lufthansa to buy a chunk of its troubled BMI business.
They would carve out the BMI Regional operation from the other parts of BMI. It currently has 14 commuter-scale Embraer aircraft based in Aberdeen, Edinburgh, Glasgow, Leeds Bradford, Manchester and East Midlands, serving 17 destinations across Scandinavia, plus Lyon, Brussels and Zurich.
Warning bells
The plan is to take on the 300 staff and the Aberdeen headquarters, and to re-brand - name yet to be revealed - and to grow Scotland's direct links with other mid-sized cities. The cost is reckoned to be in the £20m to £25m range.
That would leave Lufthansa with the main part of BMI and its low-fare offspring BmiBaby, which are rumoured to be under offer from others. British Airways would dearly love to get hold of the 10% of Heathrow's landing slots now controlled by BMI - valued recently at £400m and boosted by the increased pressure resulting from the block on a third runway. Virgin Atlantic is very keen that BA doesn't do so.
That should sound warning bells for Scotland's transport connections - the lack of air links representing a major problem for Scotland's economy.
If the main part of BMI is swallowed by British Airways, that's the main competitor gone from the Edinburgh-Heathrow and Aberdeen-Heathrow routes (BMI withdrew from Glasgow-Heathrow last March). And the way of making returns from those additional Heathrow slots is by allocating them to more lucrative long-haul flights.
Big bucket
Having held a stake in BMI since 2001, Lufthansa took over the whole of BMI only two years ago. It lost £124m on the Derbyshire-based operation last year, while turning a healthy profit from the rest of its operations.
Now, the owner is watching the rumour swirl with studied Teutonic detachment. "There's a big bucket of possibilities," a spokesman told me - including a sale, downsizing or re-routing the network. "We are looking, for the BMI Group, into all options. We'll leave the rumours to everyone else, and make our decisions autonomously."
The reason BMI Regional is in Aberdeen is that it was formed from Business Air, founded at Dyce in 1987, and specialising in business-oriented commuter routes between Scotland and smaller cities in northern Europe. Some of those involved back then are understood to be involved in the proposed buy-out 24 years later.
They would expect to disentangle the new Aberdeen airline from the Lufthansa Star Alliance, and to look for new allies, probably in Scandinavia, with which to open up new long-haul options for Scottish business travellers.
With Heathrow's growth constrained, direct routes across the North Sea and links via other European hubs - Amsterdam, Paris, Frankfurt and so on - Scotland's inbound tourism and outbound business could do with new options.