Fact check: The boys from the black stuff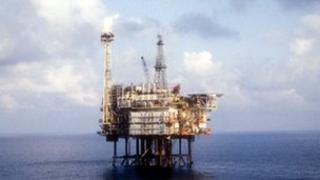 It's been a recurring theme of Scottish constitutional politics for 40 years, and you're going to hear a whole lot more about it in the next few years: how much better/worse off Scotland could be if it had North Sea oil.
The SNP conference in Inverness over the weekend has started a new round of claims, that Scotland would be the sixth wealthiest country in the world if only it had control over oil.
And then there's counter-claim: the Scotland Office highlighting the volatility of the oil price as a key component of budgeting.
Scottish Secretary Michael Moore announced he's put his economists on the case, drawing up a report on the subject. But rather than have us wait for their results, he's given us us a flavour of what he expects them to produce.
Beyond peradventure
Time for some fact-checking. Economy Minister Fergus Ewing told the SNP conference, on the subject of oil reserves, there remains "about as much as has been extracted". He said this is "beyond peradventure" - that special place known to formal debaters and reaching beyond even doubt.
That's not what the industry says, though. Oil and Gas UK recently reckoned that 40 billion barrels (or gas equivalent) have been extracted so far, and between 14 and 24 billion are left.
It's a guess based on how much is known, and likely new finds, and how much technology might improve over the next few decades at extracting oil from those hard-to-reach rock formations. It's not an exact science, but the industry figures suggest less than a third is left - which may be some distance short of peradventure.
McExchequer
Where Fergus Ewing has a stronger point is in the value of that oil. When it's been worth less than $10 per barrel, the tax revenue on that is limited. But at more than $100 - along with the expectation that it's going to stay in that ballpark and possibly rise much higher - the oil is much more valuable to whichever government has the power to take a share of that.
That's the main reason why this debate has come alive again.
But the oil industry goes on to argue that the remaining oil requires much more investment, and when competing with the world's other oil basins for scarce capital, there's going to have to be a much more attractive tax regime to keep drilling in and producing from these waters.
The SNP has been making that case in opposition to the UK government's tax hike this year. So logic would require that Nationalist politicians concede a lower level of tax if an independent Scotland had its own McExchequer.
Deficit disorder
The UK government is now engaging with this debate. It published its own preferred set of statistics today, suggesting Scotland has run a non-oil deficit of £197bn since 1980. If it had been able to draw on oil and gas, that would have offset the total with £156bn, leaving a £41bn deficit over the past 30 years.
Sounds terrible, doesn't it? And impossibly large. But the SNP responds that the UK government has run deficits since 1980 that total £715bn.
And if you take a per capita share of that, Scotland's accumulated deficit doesn't look so bad. On the back of the SNP envelope, it's £19bn less than Scotland's population share of the UK's actual outcome.
Volatility
Michael Moore goes on to say that the volatile oil price in recent years has meant revenue has fluctuated between 1.3% of tax revenue, and 2.4%.
If an independent Scotland were relying on the same funds, they would fluctuate between 13% and 24% of the annual total, Moore pointed out.
It is certainly a measure of volatility. But this is an odd argument on two counts. One is that it seems to emphasise how little difference oil and gas revenue makes to the UK. Is that really what Mr Moore wants to say?
Second, it's hard to find a country that would prefer not to have oil and gas because the revenue stream is so uncertain. Either they manage the volatility as best they can - look to Russia as a country doing so very badly - or they stack up the surplus in a trust fund.
Norwegian blue
And that trust fund claim is worth noting. It's commonplace to say Britain has squandered North Sea oil, while Norway has built up a colossal fund from 30 years of revenues.
And it's easy to argue Scotland could be in Norway's position. But to get there, Scotland would have to run regular, substantial surpluses, foregoing spending on public services in the meantime. It hasn't done so. Accumulated over time, it's run up that £41bn deficit.
A final note. Both sides in this debate choose to add up deficits and a few surpluses over several decades. But that tells us little of where we're at now. The boom years for oil revenue were in the 1980s, which is when an independent Scotland would have been building up huge surpluses. They stopped around 1990, which is just when the Norwegian fund started.
In the past five years, unprecedented government deficits have wiped out the benefit of renewed boosts to oil and gas revenue. Nationalists highlight the calculation that Scotland's been in surplus for four out of five years.
That may be so, but the surpluses have been small, and they require you not only to include offshore energy but to ignore capital spending.
You can safely assume there's more where this debate came from.