Development hope for Ayrshire mansion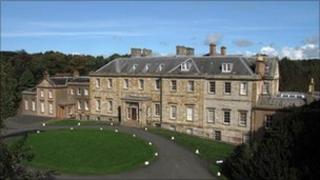 A former Scottish Agricultural College (SAC) building in Ayrshire has been put up for sale for about £1m.
Oswald Hall is the main house on the Auchincruive estate near Ayr.
The SAC, along with developers AWG Property Ltd, plan to build a new village of up to 495 homes on the land around the Grade A listed building.
The proposals, approved in principle by South Ayrshire Council, include a business centre, a golf course and equestrian centre.
The mansion, which has been owned by the SAC since 1927, was built in 1767 by Robert Oswald and some of the principal rooms were designed by Robert Adam.
The college relocated to another location in Ayr and is selling off the house and developing the surrounding land.
Oswald House has been used in recent years as a conference centre and wedding venue.