House of Fraser opens concept store in Aberdeen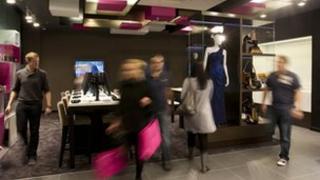 House of Fraser has opened its first buy and collect concept store in Aberdeen.
The company said the 1,500 sq ft store, based in Union Square shopping mall, was the first of its kind.
Unlike the brand's other stores, House of Fraser.com will not stock merchandise.
Instead, customers will use iPads, computers and interactive screens to order fashion brands for home delivery or store collection.
The opening marks the return of House of Fraser to Aberdeen after a nine-year gap.
The chain closed its department store on Union Street in 2002, along with branches in Perth and Dundee.
Robin Terrell, from House of Fraser, said: "Aberdeen is a thriving city and we're extremely excited to be returning there with our first House of Fraser.com store.
"This is an entirely new concept and the launch is a pivotal moment in the development of our multi-channel business, which has seen online sales increase by 107% in the first half of the year."
Further House of Fraser.com stores are planned, including one in Liverpool which will open later this year.