Cairn Energy counts cost of Greenland drilling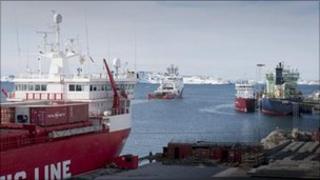 Oil explorer Cairn Energy has spent nearly £500m in drilling costs since the start of its unsuccessful Greenland campaign, it has emerged.
In an interim management statement, Cairn said costs for a total of four wells totalled $573m (£364m) by 30 September.
Last year the Edinburgh-based group spent $212m (£134.6m) on two other unsuccessful Greenland projects.
Cairn continues to work on the last two wells of its 2011 five-well programme.
The Greenland drilling season is due to draw to a close in the next few weeks .
In its statement, Cairn said: "Following results of the three Greenland wells drilled this year, unsuccessful drilling costs total US $573m at 30 September 2011.
"These unsuccessful costs include the Alpha well carried over from last year and the Lady Franklin, Delta and Gamma wells from the 2011 exploration programme."
The company said its strong financial position and "entrepreneurial exploration focus" had allowed it to build a strategic position in a number of frontier basins off Greenland, which it believed had the necessary geological ingredients for exploration success.
'Still encouraged'
It added: "Cairn remains encouraged by the prospects and opportunities presented by exploration offshore Greenland.
"Having drilled six of the 12 wells drilled offshore Greenland to date, Cairn's multi-year, multi-basin campaign in this frontier location ensures that Cairn has a considerable amount of exclusive data and knowledge which Cairn is building upon every day as the programme continues."
Cairn currently operates 11 blocks off Greenland with a combined area equivalent to 450 blocks in the UK North Sea.
Two state-of-the-art rigs are being used for the drilling and exploration programme - the Ocean Rig Corcovado, a sixth-generation drill-ship, and the Leiv Eiriksson, a fifth-generation semi-submersible.
Up to 14 vessels are supporting the programme.
Only 12 exploration wells have been drilled off Greenland since the 1970s.
Recently, Cairn announced its first gas strike in Sri Lanka through its Indian subsidiary.
The offshore well was the first to be drilled in the country for 30 years.
Cairn India made the discovery after drilling almost a mile down offshore in the Mannar Basin, Sri Lanka.