Fashion retailer M&Co in wind power move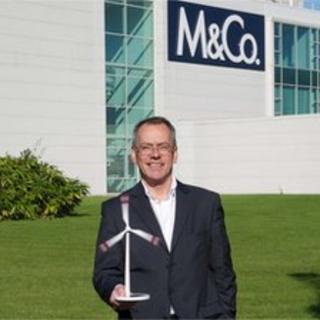 Independent fashion retailer Mackays Group is to develop its own wind turbine sites to meet all the power needs of its 300 UK stores.
The Renfrewshire-based firm, which trades as M&Co, said it would be the first high street chain to secure full control of its electricity consumption.
Subsidiary MEG Renewables is now seeking sites to develop and operate small to medium-scale wind turbines.
Each site will typically involve between one and three turbines.
They will have a combined capacity of between 500 kilowatts and 5 megawatts (MW).
The Inchinnan-based firm plans to sell enough electricity to the national grid to supply all of its stores.
Mackays said MEG Renewables would own and project-manage sites, ensuring continuity of supply throughout a site's operational lease.
M&Co energy manager Duncan Black said: "As well as providing a secure source of renewable electricity - in line with our desire to minimise our carbon footprint - owning our own wind turbines provides a valuable hedge against any future upward movements in electricity prices."
MEG Renewables has estimated it will need to develop up to 20 MW to service all its stores. It expects to meet that target within the next three to five years.
Business development manager Ken Hunter said there had been an encouraging response from farmers and landowners to their search for suitable sites.
He said: "As an independent and privately-funded developer, MEG Renewables provides the risk capital to progress projects through each of the development stages, with no requirement for any expenditure by the landowner.
"We are confident that we will be able to progress sites across the UK to meet our goal of supplying M&Co with all its electricity needs from renewable sources."