'Staycations' boost for Scottish tourism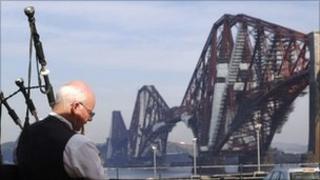 The number of visitors to Scotland from other parts of the UK has increased in the past year, according to VisitScotland.
It said the strength of the "staycation" market had helped boost Scotland's economy.
Between January and June 2011, domestic tourism to Scotland rose by 6% the same period in 2010.
The total number of visits to Scotland, including those from outside the UK, rose by 4%.
Visitor spend for the half-year was estimated at £1.7bn.
Tourism in Scotland is heavily dependent on domestic visitors from England, Wales and Northern Ireland. They account for 84% of all trips to Scotland.
VisitScotland's chief executive Malcolm Roughead said: "These figures are very encouraging, particularly as other destinations across the globe are struggling to attract visitors.
"Earlier this year, we launched a major UK campaign, including a stronger focus on the Scottish market, and this is starting to pay dividends.
"However, we must not be complacent. The industry is still suffering from the global economic downturn and we need to continue to promote Scotland in key markets."