Planning boost for Cononish gold mine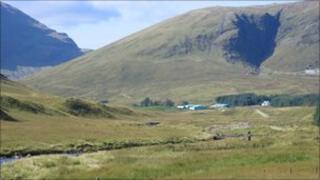 Efforts to develop Scotland's first commercial gold and silver mine in Loch Lomond National Park have been boosted by news that planning officials have recommended approval of the project.
The development was welcomed by Scotgold Resources which wants to mine at Cononish, near Tyndrum.
The parks board of Loch Lomond and the Trossachs National Park Authority will consider the plans on 24-25 October.
This is Scotgold's second attempt at securing planning permission.
Its first application was rejected by the park authority in August 2010.
The company then submitted revised plans in July this year after dropping an appeal.
Scotgold said it had met with senior park authority representatives on "a number of occasions" since its initial application was rejected to discuss specific reasons for the refusal and address concerns.
Scottish Natural Heritage (SNH) said in August its objections to the fresh proposals could be overcome, if further commitments were made to guard against the long-term environmental effects of the mine.
If Scotgold secures planning permission, it expects the mine to produce 20,000oz of gold and 80,000oz of silver a year.
It would be the first time gold has been successfully extracted from a Scottish mine for more than 500 years.
Scotgold chief executive Chris Sangster said: "We are delighted with the recommendation in the report and are confident that, in considering its decision, the parks board will endorse the executive director's recommendation.
"This would represent the culmination of three years' detailed work towards planning a mining development which meets the exacting environmental standards required by the National Park Authority whilst providing a significant commercial opportunity in the interests of all stakeholders, in particular the local community which has been a keen supporter for a development that promises increased local employment and economic activity."
Scotgold is a mining exploration and development company listed on the Australian Securities Exchange and the AIM market of the London Stock Exchange.