Numbers rise at Highlands and Islands airports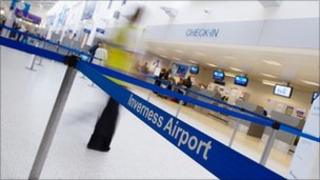 Airports in the Highlands and Islands reported a healthy rise in passenger numbers last month, with Inverness leading the pack.
Highlands and Islands Airports Limited (Hial) said 118,786 passengers went through its 11 bases.
Inverness drew almost 60,000 passengers in September - 11.2% more than a year ago.
Stornoway Airport recorded a rise of 5.9% to reach 11,654, while numbers rose at Sumburgh by 3.6% to 15,751.
Overall, the Hial group achieved a 4.4% increase on the same period last year.
Commenting on the results, Hial managing director Inglis Lyon said: "September has been another fantastic month for Inverness Airport.
"This is partially attributed to the commencement of the new route to Amsterdam from Inverness on 5 September which has been very well received.
"The airport has also seen additional flights to London Gatwick, Belfast and London Luton, as well as a number of corporate event charters."
'Increased opportunities'
Mr Lyon said Stornoway Airport's figures had been boosted by improved loads on Loganair flights as a result of the Western Isles Schools Project.
He added: "Overall, I am encouraged to see that the Highlands and Islands economy continues to reap the benefits from increased opportunities - specifically Inverness, with our new Amsterdam route.
"It shows that the demand is there for both business and leisure passengers and we are confident that such developments at the airport can only help to underpin its success as an international hub."
In the year to date, Hial airports have attracted a total of almost 700,000 passengers - a 9.7% increase on the same period for last year.
Hial is a public corporation which receives subsidies from the Scottish government.
It operates and manages 11 airports at Barra, Benbecula, Campbeltown, Dundee, Islay, Inverness, Kirkwall, Stornoway, Sumburgh, Tiree and Wick.