BAA told to sell Scottish airport before Stansted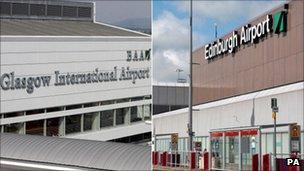 Airport operator BAA has been told by competition regulators to sell one of its Scottish airports before it sells Stansted.
Earlier this year the Competition Commission ordered Stansted Airport in Essex be sold first, followed by either Edinburgh or Glasgow.
But BAA appealed against the Stansted sale.
Now the commission has ruled that the disposal of one of the Scottish airports must be brought forward.
The sale process is expected to begin soon.
The sales were initially ordered following a lengthy investigation by the Competition Commission into whether BAA's ownership of UK airports was anti-competitive.
In 2009 the commission said the operator must sell three of its seven UK airports and since then BAA has mounted a string of legal challenges to try to keep them.
Laura Carstensen, chairwoman of the Competition Commission's BAA remedies implementation group, said: "We feel this is the best approach in view of the further delay caused to the Stansted sale by this second appeal.
"It is frustrating that we cannot proceed with the Stansted disposal until this new challenge from BAA has been dealt with, but in the meantime we will press ahead with the Scottish sale and, as a result, passengers and airlines in Scotland will enjoy the benefits of greater competition even sooner than they would have done otherwise."
BAA chief executive Colin Matthews said the company was pleased with the latest decision from the commission and would move ahead with the sale of Glasgow or Edinburgh.
He added: "Both Edinburgh and Glasgow are great airports with great futures and we will be sorry to see one of them leave BAA.
"We will continue with our judicial review proceedings against the Competition Commission's decision requiring BAA to sell Stansted.
"We believe the south east airports market has changed and BAA has changed since the 2009 decision. It is also clearer now than it has ever been that Heathrow and Stansted serve different markets."
The sale of Edinburgh or Glasgow would leave BAA with five airports - Heathrow, Stansted, Southampton, Aberdeen, and one of either Edinburgh or Glasgow.
The date for the Stansted appeal has been set for the start of December.
Related Internet Links
The BBC is not responsible for the content of external sites.