Scottish builders in apprentices legislation call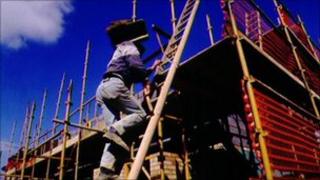 Builders have called on the Scottish government to introduce new legislation soon to help the construction industry recruit and retain apprentices.
The Scottish Building Federation (SBF) said it wanted skills and training opportunities to be a key criterion when awarding public sector contracts.
It argued that would give more firms the confidence to recruit apprentices.
But the Scottish government said it was already delivering a record 25,000 modern apprenticeships this year.
The call came as the SBF's latest Scottish Construction Monitor indicated employers' confidence slipped in the last three months, with a rise in the proportion of employers more pessimistic about the outlook for their business over the next year.
Of firms which employed apprentices, only 12% of those surveyed expected to be able to recruit an increased number of apprentices over the 12 months, while 56% expected to cut back on the number.
Nearly a fifth anticipated having to cut the number of apprentices they recruited to zero this year.
SBF chief executive Michael Levack said the latest survey of nearly 80 firms showed confidence now "heading back into reverse" after successive quarters when industry confidence appeared to be gradually recovering.
"The public procurement system could do a great deal more to recognise the significant efforts many building firms are making in continuing to offer apprenticeships in the face of such tough trading conditions," he said.
"We have strongly welcomed the Scottish government's commitment to bring forward a sustainable procurement bill designed to recognise the creation of skills and training opportunities as part of the system for awarding public sector contracts.
"With a downward trend in the number of apprentices working in construction apparently set to continue over the next 12 months, the Scottish government needs to accelerate the timetable for bringing forward this legislation and extend its scope beyond major contracts to include public construction contracts of any size."
He added: "In so doing, the Scottish government would give a greater number of industry employers the confidence to recruit more apprentices, and help the industry to start rebuilding the skills and capacity it has lost."
Apprentice 'record'
The Scottish government said it was delivering a record 25,000 modern apprenticeships this year, and was already using major public contracts to deliver new training and employment opportunities through the use of community benefit clauses.
A spokesman said: "The Scottish government published guidance on the use of community benefit clauses in 2008.
"These clauses have already resulted in almost 1,200 new entrants being recruited to jobs or training places, including over 500 apprentices.
"Existing contract clauses require contractors to fill another 800 training and employment places, bringing the overall total of training and employment places created through community benefit clauses in these contracts to over 2,000 across the wider public sector."