Slowdown in Scottish export sales growth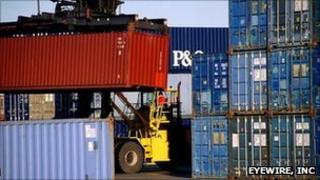 Growth in Scottish export sales slowed in the second quarter of 2011, according to new official figures.
Manufactured exports grew by 1.1% in real terms during the period - compared to a rise of 3.9% in the previous quarter.
Over the year, most sectors saw growth - with the overall volume of export sales increasing by 2%.
Sectors such as textiles, engineering and chemicals registered the largest rises in the second quarter.
According to the Index of Manufactured Exports, sales from engineering and allied industries rose by 2.5%, while chemicals, coke, refined petroleum and nuclear fuel were up by 2.4%. Textiles, fur and leather export sales grew by 3.2%.
However, exports of wood, paper, printing and publishing dropped by 9.4%, while metals and metal products sales fell by 3.2%.
On an annual basis - comparing the four most recent quarters with the previous four quarters - growth was experienced in nearly all manufacturing subsectors.
The largest contributors to annual growth were food and drink (up 2.4%), "other manufacturing" (up 13.6%) and metals and metal products (up 9.6%).
Within the engineering sector, there was growth in transport equipment but falls in mechanical engineering and electrical and instrument engineering.
Figures 'encouraging'
Finance Secretary John Swinney described the figures as "encouraging".
He commented: "On an annual basis, manufacturing export volumes have now increased for the last four consecutive quarters and there is evidence of a stable upwards trend.
"Scottish businesses, large and small, are the primary driver of sustainable economic growth and our ability to succeed as a nation depends the competitiveness and success of our businesses."
He added: "Over the last four years, this government has acted to support growth and tackled the challenges presented by the global economic downturn.
"We have set an ambitious target to deliver a 50% increase in exports by 2017 and our economic strategy outlines practical measures, ensuring that Scottish businesses can seize on opportunities in new growth markets."
The Scottish Chambers of Commerce said it was encouraging that the strong growth in Scotland's manufactured exports at the beginning of 2011 had continued into the second quarter.
But chief executive Liz Cameron warned trading conditions had become more challenging in the second half of the year, with economic uncertainty growing in the US and in the Eurozone.
She added: "Exporting has been very important to our manufacturers in recent years as domestic demand has remained weak.
"It is vital that we continue to diversify and identify new potential markets if this growth is to continue.
"It is clear this has been recognised by our governments at Holyrood and Westminster and we need them to create the right environment to allow our exporting businesses to continue to thrive."